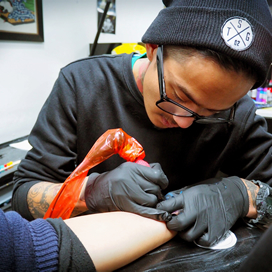 KARLO
Hey, my names Karlo, I'm 22 and I've been an artist all my life.
I've been working as a tattoo artist for 5 years now and wouldn't change it for the world. I studied fine art at Victoria University before becoming a tattoo artist to further my artistic skills, which I translate in my artwork. I specialise in black and grey portraiture, freehand work and traditional Japanese and love doing colour.
Outside of tattooing I love my basketball and spending time with my family and friends. Ever since I could remember, I've always had a pencil or paintbrush in my hand. Drawing everything from anime characters to people, from cars to buildings, you name it I've probably drawn it or painted it. Some future goals of mine would be, to see how far my tattooing career can take me and to hopefully run my own studio one day.